Centre of Excellence
End Of Live March 2016.
This page exists only for nostalgic reasons.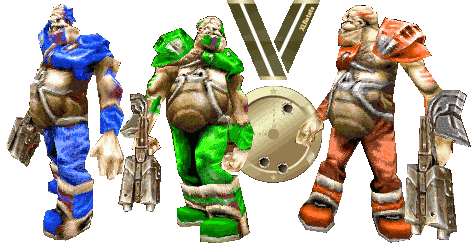 Here is the home of
CoE I
and
CoE II
hopmod server. Have fun.
CoE Sauerbraten Cube 2 Server
Two Servers rocking around the clock.
All CoE's are based on Hopmod which is a altered Sauerbraten (Cube 2) Server. Balance of teams is realized by adding Bots. All Bots have a skill of 80. Test it by yourself by typeing /addbot 80. There are special names - especially racist names - you should never use on CoE servers. If you use such name you will not be able to connect to the server. When you rename "In Game" to such name you will be kicked by server immediately. CoE servers are powered by
FreeBSD
.
Server rules, only two: No cheats, no insults. Commands in game: Press t to enter the command promt. Then type:
/showping 1
Shows the ping of players.

/showpj 1
Shows the lag (pj) of players.

/showclientnum 1
Client number (cn) of players.

#votekick cn
Replace cn with the client number of a player which you would like to kick.

/texreduce 12
This does not look pretty but it resoled the fps (Frames Per Second) on small computers.

9
Toggles from 1st person view to 3rd person view and aback.

#help
Some Hopmod commands.

#stats
Shows your stats in the actual game.

#stats total
Shows your stats of all games you've played.
Bans on CoE

I really hope there are no guiltless involved !!

Most temporary local bans are handmade by cheaters now.

Known proxys are blocked.

There are much permanent bans on the CoE's now because of autoshooting / aimbot. Are you involved guiltless? Please visit me in IRC or send an e-mail to check and possibly remove that ban.
Play fair, have Fun!! Pauli. Go to
ToP
. 15 Apr 2015